Inflation reached 5.4% last month with 2022 set to be a difficult year for small businesses to fund working capital requirements. In comparison, US inflation hit a staggering 6.8% in November 2021.
To combat inflation, The Bank of England took the decision to raise interest rates from the Covid-low of 0.1% to a recovery-adjusted 0.25%. Businesses have been left concerned with how to pay off the debts amassed because of Covid-19.
Research from the British Chambers of Commerce suggests that the UK's economic recovery slowed in the final quarter of 2021 as mounting headwinds increasingly limited the key indicators of activity. The BCC expects rising raw material costs, higher energy prices and the reversal of the VAT reduction for hospitality to push inflation above 6% by April."
Businesses are beginning to feel the pinch of the effects of the ongoing Omicron crisis and inflation.
In December 2021 there were 1,365 Creditors' Voluntary Liquidations (CVLs), which is 37% higher than in December 2020, and 73% higher than in December 2019.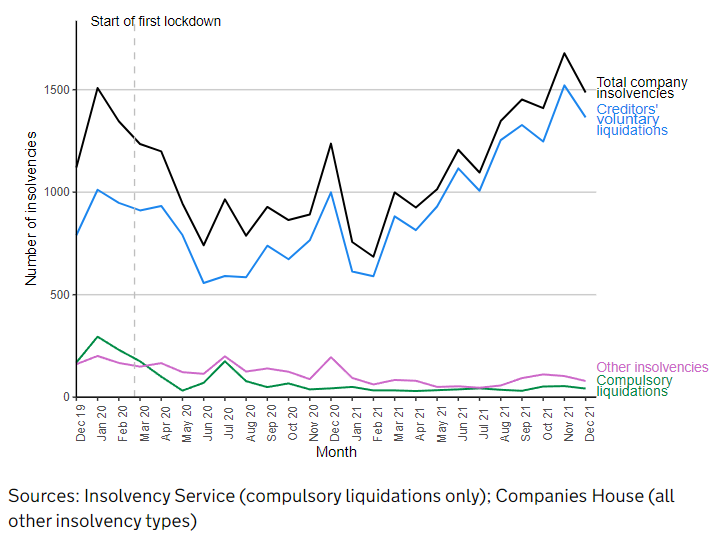 How will this effect SMEs?
Small businesses are left with a tough decision: absorb costs and take a hit on their margins, or pass on the costs to consumers.
However, an increase in costs is not the only concern facing small businesses. Liquidity in time of volatility is key for the survival of small business. Typically, most small businesses liquidity comes from suppliers, not banks, by obtaining credit at last month's prices to pay for goods priced at today's prices. This leaves small businesses vulnerable to sudden price changes.
Furthermore, small businesses don't have the luxury afforded to large companies: market power.
Manos Schizas, Senior Economic Analyst at the Association of Chartered Certified Accountants (ACCA) puts it simply:
"Inflation generally subsidises those with market power at the expense of those without, and SMEs are usually among the latter. They are less likely to be able to pass higher input prices on to their customers."
What is the end result?
It is becoming apparent that small businesses are going to have to absorb the costs associated with high inflation, whilst combating the ongoing effects of the Omicron variant with no government support.
It's important that businesses are aware of all their options and that with the help of professional advisers, like us at Buchler Phillips, that there is normally a way out. It's vital to monitor your cash flows appropriately and be pro-active with your decision making.
It's not too late to ask for help.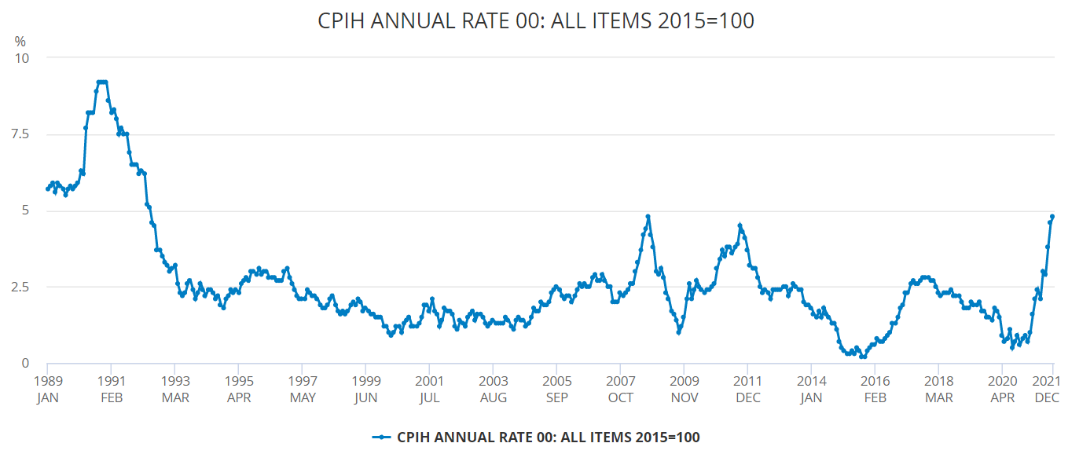 Source: ONS
Written by Oliver Southwell, analyst at Buchler Phillips, the UK's leading independent corporate recovery, restructuring and turnaround firm.